I wanted to share a quick post of Carter's favorite baby toys in case anyone is still shopping for Christmas gifts or is looking for a baby shower gift. I'll share them in order of when he started using/took interest.  All of these items are things that he still enjoys playing with.  I noticed too that a lot of these toys are in the pictures of Carter in my previous blog post – further proof that they are favs 🙂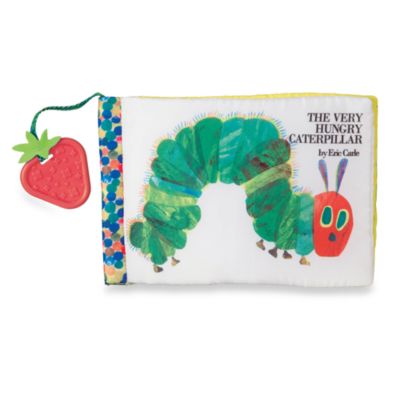 Around 2-3 months, Carter took his first interest in items and started reaching out/touching on purpose.  These 2 books are without a doubt his favorites and go with us everywhere – Jungly Tails and The Very Hungry Caterpillar soft book.  Side note – the instructions for Jungly Tails so spot clean only but I had to wash it and it did just fine.  I just didn't put it in the dryer.
Baby Einstein Take Along Tunes Musical Toy – this is another one of those items where we quickly bought a second and it lives in the diaper bag.  The songs are classical tunes and play longer than most musical toys.  Around 6 months, Carter was pushing the button on his own to start or change the song.  He also likes to teeth on and play with the beads on the handle.
Baby Einstein Baby Neptune Ocean Orchestra – this was the first toy Carter showed an interest in and still loves.  He loves to hit the buttons with both his hands and feet and I find him teething on the turtles flaps now.  Like the Take Along Tunes Toy, the turtle plays classical music and has a setting to play just the various instrument sounds.  This was one of the first things I bought for Carter – I remember buying it last Black Friday when it was on a great special at Target.  We love this toy!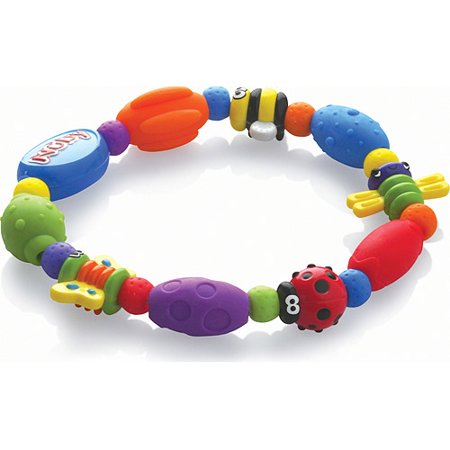 Nuby Teethers – we have several of the teethers made by Nuby and Carter likes them all.  They are bright colors, interactive, priced well and hold his attention for a while.  Some of our favorites are the Wacky Teething Ring, The Bug-A-Loop and the Spin N' Teethe.  We've bought ours at Babies-R-Us, Wal-Mart and Bed Bath and Beyond (online).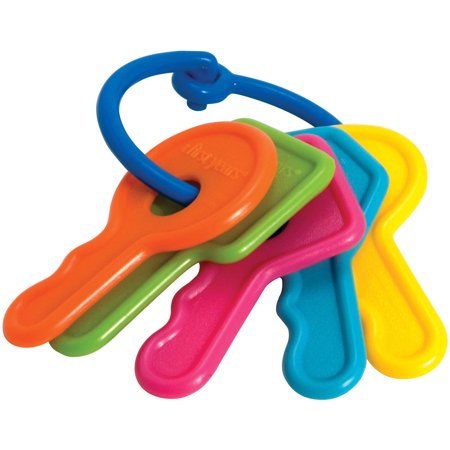 Baby Links and Baby Keys – these are both inexpensive, great items for babies.  Another great thing about the links is that you can hook other toys to them and then attach to the stroller, carrier, etc.  There are numerous "baby keys" on the market but we like the slimmer, less clunky ones.  Carter likes to shake them around like a rattle.  Both of these items double as teethers, too.
Sophie Teether and Innobaby Teethin' Smart Ez Grip Massaging Teether  – speaking of teethers, these are two toys/teethers that he has really enjoyed as well.  He took an interest to both of these around 3-4 months.
Lamaze® Mortimer The Moose Plush Toy – Moose has been a big hit at our house for months.  He pretty much lives in the bathroom rock-n-play and Carter works him over each morning.  I like all the various interactive components on the moose and that he's lightweight.
Bright Starts Press & Glow Spinner – this toy is going to be under our tree this year.  Carter loves to play with this when we have play dates with our neighbor.  His exersaucer also has a mini on it that he enjoys playing with.
Oball Bounce-O-Bunch Activity Center – speaking of exersaucers, this is the one we have for Carter and he really enjoys it.  We really started using it around 4 months and it is GREAT for when you need to keep him entertained and safe long enough to start dinner, etc.  I liked this one because it has a unique bounce pad to give baby plenty of bouncing action, but keep baby's little feet off the floor.  It also has a 3-position height adjustment which allows for room to grow.  Two of the toys come off so they can play on the floor with them.  Two toys light up and there's a piano that makes 3 different sounds.  It's a hit in our house.
vTech Sit to Stand Learning Walker – I'm pretty sure this is a mom favorite by the majority (and baby favorite).  Carter got his in November and took to it right away – he always wants to be standing in front of it.  His favorite thing is pulling the phone off.  There's so many interactive features, he is entertained for a while.  Another nice feature is that the panel comes off so we can lay it on the floor for Carter to play with too vs standing.
Fisher-Price® Laugh & Learn Around the Town Learning Table – this is our newest toy and we got it at Thanksgiving (after playing with the neighbors :p).  Carter would stand for hours and play if his legs would hold him up that long!  This is another toy that will grow with baby – it is recommended for ages 6 to 36 months – because of the Smart Stages technology  that lets you select the stage that's best for your child – there are 3 levels to chose from.   Like the walker, you can remove the table top and play with it on the floor.
I'm sure there are many others but these are the tried and true favorites!  I'll be back to share our favorite toys in the next few months.  Happy shopping!