Wow – two months since I've posted!  I swear, time is on fast forward now that we have Carter.  He is approaching 8 months and I'm already thinking of his first birthday party.  In addition to everything baby, we are in full swing Christmas around here and I hope to share our decor before the holiday arrives.  I've had so much fun decorating and preparing for Carter's 1st Christmas – just because he won't remember it doesn't mean we won't!  I've worked to stay ahead of the game where I can and I have I'd say 95% of the gifts purchased and under the tree!  I'm just waiting for a few more items to be delivered and I am done.  A work trip to St. Louis last week caused me to lose some ground.  We also had our annual Christmas party Saturday night with 25 total attending – our largest party yet and the biggest at our new house.  It was a fun time and Santa even made an appearance.
I wanted to share our favorite baby items for around the 3-7 month time period.  I'll list them in order that we started using them or Carter took an interest:
Fisher Price Rock N Play – I really should have included this in my infants must have post.  We used ours so much right away I bought a second one (after carrying the first one around the house with me all the time).  One pretty much lives in the master bathroom and the other the kitchen/breakfast room.  Carter hasn't tried to escape it so we still use it with him so we have really gotten our money's worth!

Motorola MBP36S Digital Video Baby Monitor – I did quite a bit of research on monitors and got feedback from family members with young children and this is the monitor we settled on.  We use it quite a bit and I have zero complaints.  There's a great picture on the monitor, the camera captures a lot, it shows the temperature in the room and it's lightweight to travel with.  This monitor will also grow with our family which is a plus (can add another camera and view both on the same monitor).
WubbaNubs – I can't say enough positive things about these!  Not only are they adorable, but Carter took to it right away.  There's lots of opinions about giving a baby a paci right away, but for us, it worked and I wouldn't change it for the world.  In the last 2 months, he's been able to put his paci back in (and also pull it out) which is a huge help.  The only time he struggles with getting it back in is the middle of the night.  He also loves to play with the tag on the animals which is an added bonus.  My new favorite is the reindeer – just in time for Christmas!  We never leave home without at least 2 Wubs.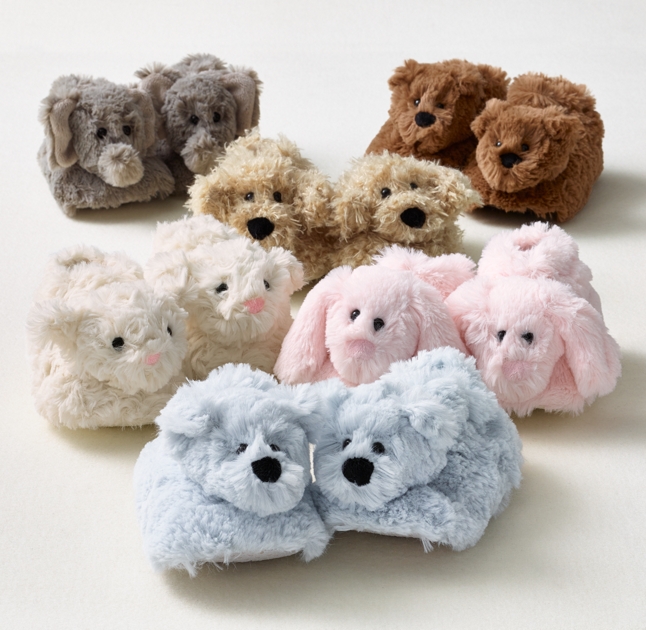 Restoration Hardware Plush Animal Slippers – we received these as a gift right after Carter was born and they quickly became a favorite and worn often.  I had bought him a very similar pair of slippers from Pottery Barn Baby but they were way too big and fell off as soon as he put them on.  Honestly, they still don't fit right and we never use them.  The RH slippers are so soft and fit him right away.  They are not as loose around the ankle as the PB ones and he easily kept them on.  His baby toes stayed nice and warm in these.  He just wore them again last week but they are now almost too tight for his legs where the elastic hits.  I did see that they have bigger sizes so I'm thinking these may end up under the tree now too. 😉
Bath Sponge Cushion – Carter loves bath time and this sponge makes it even more enjoyable for him.  I'm not a big fan of the baby bathtub.  I find them all to be clunky and hard to maneuver.  Once he was too big for the mesh sling in his baby tub, we went ahead and started laying him in the regular tub on his sponge.  The sponge keeps his ears up out of the water and he's able to lay or sit on it and play comfortably.  The sponge dries out quick so I can take it with us when we travel.
Fisher Price Sit Me Up Seat – I wish we had found out about this sooner but we didn't order until he was around 6 months.  This is another easily portable baby item that follows us around the house and on trips.  It's even been to the Bahamas!  I think this helped Carter learn to sit up on his own and it always helps clear up tummy problems if you get my drift!
Inglesina Fast Table Hook On Seat – I got this hook on seat to use at our kitchen counter.  We spend a lot of time in the kitchen and I wanted Carter to be able to be up with us and part of the action.  I also bought the tray that attaches but we haven't had a need for that yet as we've just started with the pureed foods.  Carter loves to be in his seat and surrounded by toys to occupy him.  His new favorite thing about the seat is throwing all of his toys on the ground – one by one.
That comes to mind as most of the items we have used over and over these last 7.5 months – I'll be back soon with my top baby toy picks!  Just in time for last minute Christmas shopping!  Please comment below what your must have baby items are/were.