And with a blink of the eye, my little Love has turned 3 months old.  It has been such a fun 3 months – he is truly changing and growing everyday!  So much so that he is wearing 3-6 months clothes!  He is so long – already 25″!  We can't figure out where he is getting the height from.  Carter is also the happiest little guy – he only cries when he is hungry or super tired (he's still not a fan of napping).  I can't get enough of his big gummy smiles.
Before he was born, I bought ahead a good chunk of clothes up to size 12 months (love a good deal!) but now I'm seeing the error of my ways!  On the plus side, at least I bought items when they were on sale/clearance but on the down side, the seasons are going to be off for when he is wearing the sizes.  I discovered that as long as you have your receipt for Carter's, they will return items and give you back what you paid no matter how old the receipt is.  So, lesson learned with Carter's – keep every receipt!!  I have found that their clothes seem to run a little on the small side – and I don't dry anything all the way so I know I'm not shrinking items.
Over these last 3 months, I have come to love some of our baby items/gear and wanted to share that today.  I'm going to dedicate another post to my nursing must haves so I won't include those here.
Sleeping:
The Halo Bassinest Swivel Sleeper was something I knew was worth the splurge and that I really wanted – even if it was only for a short amount of time.  Actually, Carter is getting close to being too long for it now, a little over 3 months old.  My very generous co-workers went together and gifted us the Bassinest at my baby shower and it was such a wonderful surprise.  Be warned – it weighs a ton but is very sturdy for baby to sleep in.  Adam called dibs right away on having the Bassinest on his side of the bed and we love how easy it is to swivel close to/away from the bed.  The side that pushes down easy is great for quickly putting the paci back in and made it easier to get him out of the Bassinest.  We don't use the vibrate and music features very often but it's nice to have the option.
I purchased/received as gifts several of the Halo Sleepsacks.  Carter was in the newborn size until around 2 months and then I bumped him to the next size so he had more room for his long legs.  I also started him out in the fleece material but we quickly realized that was too hot for him, especially in addition to his sleepers.  The thin cotton fabric has been a much better option for him.  We could have put him in a onesie vs full sleeper but his hands and feet were often cool to the touch.  The Sleepsack was great to keep his arms tightly wrapped so he didn't wake himself up when he would startle.  Now, at 3 months, his arms are so long he can easily get them loose from the swaddle and we find him asleep with them above his head so I think we are drawing to  the end of our swaddle days.  We will still use the sleepsack until he's ready for a blanket at night tho.
For the past month or so, we have made Carter's nighttime routine include a bath.  I have never been a fan of lavender scented products but I do really like the Johnson and Johnson Lavender & Chamomile Shower Gel and Lotion.  Does it make him sleep better as the product claims?  I'm not sure but I would use a lotion on him regardless.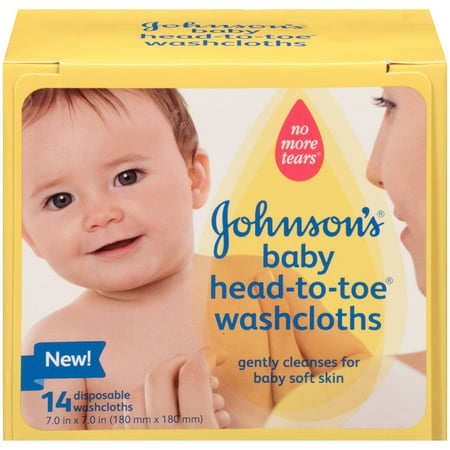 I also LOVE the Johnson and Johnson disposable washcloths with the bath wash made in them.  They have been great for travel and I love reducing the chance of items spilling in transit!  The disposable cloth really suds up nicely and there's plenty of product in each cloth.
Diapering
I went back and forth on if we really needed a diaper waste container or not.  It would be easy enough to toss the diapers in the main trash I thought and yes, it is, BUT, I wasn't prepared for exactly how many diapers we would go through, especially at first!  I decided on the Diaper Dekor pail for a few reasons:  good reviews, looked more like a trash can than a pure diaper genie and can be converted into a trash can once no longer needed for diapers.  It also comes in a ton of colors and several size options.  We have been really pleased with it – it contains the odors and holds quite a few diapers before the liner needs changed.  We get these refills vs the other options that are available due to all the reviews I read.
Before baby arrived, I stocked up on Huggie's Natural Care wipes.  Turns out, Carter would scream hysterically the first week we were home from the hospital anytime one of these wipes touched him while changing his diaper (which again, was often).  His skin under the diaper was also turning red and we could tell the wipes weren't doing him any favors.  I did some research and we talked to Adam's sister and decided to try Water Wipes and Baby Aquaphor.  Literally within the hour of purchasing these two products we saw a huge difference with Carter while changing his diaper.  We have sworn by these products since and haven't had any more issues, thankfully.
I'll be back next week with my must have nursing, travel and toy items. Leave a comment below with your newborn must-haves.
Thanks for stopping by!